This page will be updated once a week (usually on the weekend) with the latest registered games submitted that week.
In order of submission:
Wyrd is Bond
Jason L Blair
Magical gangbangers taking a mystical war to the streets in South Central Los Angeles.
$20.00
More Information
Buy It Here
Conspiracy of Shadows
Keith Senkowski
In Conspiracy of Shadows you are people bound together by the knowledge of a hidden evil and driven by a desire to thwart it. They are members of an underground Cell fighting an insidious supernatural conspiracy in a grity medieval world.
$19.99 Hardcopy, $10.00 PDF
More Information
Buy It Here
The Shadow of Yesterday
Clinton R. Nixon
The Shadow of Yesterday is your entrance into a pulpy, sweaty fantasy world that is undeniably human. Combining modern story-focused mechanics with the aesthetic of a classic RPG, TSOY allows you to explore worlds filled with love, hate, sex, and violence.
$20 (free to read online)
More Information
Buy It Here
Infinite Legends Roleplaying Game
Jason Broadley
Infinite Legends offers a complete set of playable and customizable roleplaying game rules, based on real-world physics and common sense, for use with any game genre or playing style. Campaign settings, adventures and more will follow in the near future.
$20.00
More Information
Buy It Here
The Basic System Version 2
Jason Libby
The Basic System version 2 is your generic game rules for those who hate miles of text with no relief in sight! Great for making D20 easy and no OGL for game developers who want to use it!
FREE!
More Information
Get It Here
Iron Gauntlets: Heroic Fantasy Roleplaying
Brett M. Bernstein
Go back to basics with Iron Gauntlets and create a customized fantasy campaign to fit your style. Iron Gauntlets provides a foundation with which you can play, but it also gives you the freedom and guidance to go beyond - create your own special abilities, races, creatures, and even combat styles.
$7.50
More Information
Buy It Here
HardNova ][: Space Opera Adventures
Brett M. Bernstein & Matt Drake
Space Opera in a tidy and light package - versatile rules make it perfect for one-shot games, extended play, or as a framework for your own ideas. The included setting can be easily discarded and replaced by that of your favorite movie, television program, comic, or novel.
$4 (for core PDF); $7.50 for PDF Collection; $17.95 for Softcover
More Information
Buy It Here
Lacuna Part I. The Creation of the Mystery and the Girl from Blue City
Jared A. Sorensen
Sinister secret agents with shadowy employers and mysterious pasts. A bizarre landscape built from six- billion human minds. Arachnid-headed beings that guard a war-torn borderzone. And all the worst that Mankind has to offer, stalking the alleys and crumbling buildings of a place called Blue City.
$5.00
More Information
Buy It Here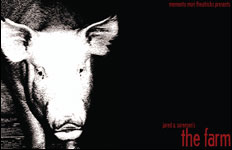 the farm
Jared A. Sorensen
Six strangers wake up in a room. Five days from now, they'll be dead. Their only option is to escape. Man is the most dangerous animal.
$3.00
More Information
Buy It Here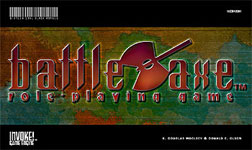 The Battleaxe RPG
Kenneth Douglas Woolsey
Designed with kick-in-the-door gamers in mind, the Battleaxe RPG brings to life a rich fantasy setting with familiar fantasy races so you can strap on your backpack, pick up your battleaxe, and start your adventures right away!
FREE
More Information
Get It Here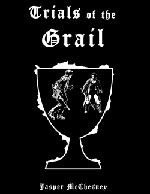 Trials of the Grail
Jasper McChesney
Undertake the classic grail quest, in the middle ages or the modern day.
$6.00 USD pdf / $12.00 USD print
More Information
Buy It Here
Adventures In Delving
Vincent Diakuw
Adventures In Delving is a heroic role-playing game with the savage sensibility of the pulp era. Adventures In Delving... what's yours is yours, and what's theirs is yours.
$3.50
More Information
Buy It Here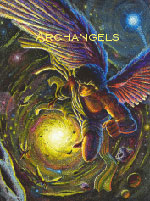 Archangels: In the Beginning
Evangelos Hugo Paliatseas
In the beginning... God created the heaven and the Earth. A LARP game about playin the Mind of God to make this happen.
$12.40
More Information
Buy It Here
d4-d4 Main Book
Kyle Schuant
A die roll of two four-sided dice, the one subtracted from the other and added to a Trait, and compared to a Difficulty level, resolves most actions. Traits are rated with a description, so that you can say, "Djim is an Outstanding Cook," or "Jane is a Middling Swimmer." From that, you get a performance from Crap to Famous. The system is designed to allow a range of game styles, from Hack to Thesp. Not only do some Traits compliment one another - so your Excellent Physics can help your Middling Engineering - but personality aspects help, too. This encourages you to bring the character's personality out. d4-d4. Pyramid versus pyramid, just like ancient Egypt only better.
US$7.95
More Information
Buy It Here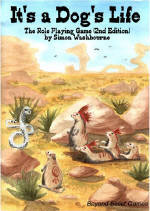 It's a Dog's Life
Simon Washbourne
The role-playing game of intelligent prairie dogs, on the Quest for the lost city of Thundertown. In the style of Watership Down.
$7.50
More Information
Buy It Here
have-a-go-heroes
Simon Washbourne
The role-playing game of not-so-super-superheroes, in the style of The Mystery Men
Free
More Information
Get It Here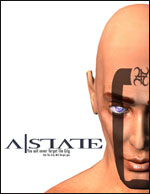 a|state
Malcolm Craig
The a/state role-playing game is set in The City - a horiffic urban environment from which no one can leave. With a rich, intricate setting drawing on influences from SF to gothic horror, a|state offers an immensely detailed gaming environment. You will never forget the City. But the City will forget you.
$40.00
More Information
Buy It Here
Primetime Adventures
Matt Wilson <!May I note that I am totally gay for Matt Wilson? I am. --Ben>
Primetime Adventures lets you and your friends create and play the greatest TV show that never was, complete with meaningful characters and gripping drama.
$15.00 USD plus shipping
More Information
Buy It Here
Dead Inside: the RPG of Loss & Redemption
Chad Underkoffler
You've lost your soul. What will you do to get it back?
$13.00
More Information
Buy It Here
Monkey, Ninja, Pirate, Robot: the RPG
Chad Underkoffler
Are you asking for a challenge? Do you have the Mojo to prevail against your eternal enemies?
$6.00
More Information
Buy It Here
Tombstones n' Tumbleweeds
Christopher Brackett
Tombstones n' Tumbleweeds is a complete set of "wild west" skirmish-level miniatures wargame rules (25-28mm scale). The 56-page "TnT" book contains all the rules you'll need to play miniatures skirmish games in the Western genre, including: complete rules for creating colorful, distinct "old west" characters with an RPG flavor, including attributes, skills, character flaws/advantages, & detailed rules for character advancement; shooting, hand-to-hand fighting, dynamite, Gatling guns, townsfolk, and much, much more.
$8.95 USD
More Information
Buy It Here
Pulp-Fu
Dan Bayn
A Wushu Game of Noir Style & Pulp Action! Pulp-Fu is a blow-by-blow genre deconstruction for Wushu fans. It includes a revised and expanded version of the Wushu rules, but is a self-contained game.
$5.00
More Information
Buy It Here
Code of Unaris - Chat Roleplaying
Gary Pratt
A programmer rediscovers a lost algorithm that opens a wormhold to Earth's distant past, and unwittingly alerts an ancient evil of its failure to prevent mankind from surviving into the twenty-first century. A fantasy roleplaying game made exclusively for chat play.
$15.95 for the print version, $5.95 for the pdf.
More Information
Buy It Here
Roleplaying Game Designate: Robots
Andrew Kenrick
Dedicated to megalomaniac machines everywhere, Robots is a fast, furious and fun game playable in an hour. The players take on the roles of the machine underclass and attempt to break their programming and crush humanity under their feet.
free
More Information
Buy It Here
The Undying Lands
Colin Fredricks
The Undying Lands pits everyday people against a world of faerie and magic, in the style of "Stardust," "The War of the Flowers," and "Three Hearts and Three Lions."
$6.00
More Information
Buy It Here
BONES the Role Playing Game
Andrew J. Martone
BONES the RPG is a fantasy role playing game in which characters, monsters, equipment and obstacles are represented by customized six-sided dice. The game allows for modular, on-the-fly GMing and provides for both tactical and strategic levels of play.
$5.00
More Information
Cat: A Little Game About Little Heroes
John Wick
The premise is simple, based on the pets found in more than a quarter of American households. Cats protect people from things they can't see. Boggins, specifically. Boggins, like the Man Under the Bed. Players fight to protect humans from the creatures that feed on children's fears and rejoice in men's shortcomings. Cats also venture to the Kingdom of Dreams where the surreal is common place, and anythings is possible.
$8.00 pdf / $15.00 print
More Information
Buy It Here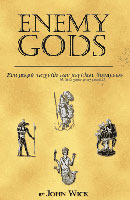 Enemy Gods
John Wick
In Enemy Gods, you take the role of both a mythic Hero and a powerful God. Your God guides your Hero and his compatriots through epic adventures in dangerous lands, winning the favor of mortals who beg for your intervention. As the Heroes' popularity grows, the power of the Gods does as well. The more powerful the Gods become, the more they can aid the Heroes. But just as Gods are wise and generous, so are they vain and jealous... and wrathfulc and there's only so much devotion to go around.
$6.00 pdf / $12.00 print
More Information
Buy It Here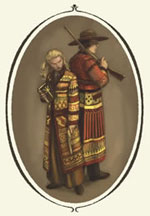 Dogs in the Vineyard
Vincent Baker
Roleplaying God's Watchdogs in a West that never quite was.
$22.00
More Information
The Terran Story
Richard Parkinson
The Terran Story is sci-fi RPG that packs a punch, where the players storm through the gritty world of a harsh tomorrow.
$7.99
More Information
Buy It Here
Nine Worlds
Matt Snyder
In Nine Worlds, you play modern mortals with fantastic power in a universe ruled by the Greek gods locked in a cold war with the Titans. Fantastic card mechanics help you create powerful stories worthy of the classics!
$20.00 print, $10.00 PDF
More Information
Roma Imperious
William Corrie
Roma imperious is where Alternate History meets Roman Fantasy. A setting that is more than just Rome, it embraces the world and cultures that Rome dealt with as well as its own provinces.
$39.99 USD
More Information
Buy It Here
Dog Town: Core Rules
Jonathan Ridd
The funky, hard hitting, pure punk crime game where you steal, deal, cheat and beat your way to $100,000 on the insanely violent streets of inner city New York. The book is 294 pages of Grand Theft Auto style mayhem powered by The Split System and contains everything you need to play.
$10.00 pdf, $22.99 print
More Information
Buy It Here
Fastlane
Alexander Cherry
A fast-paced, high-stakes roleplaying game that takes full advantage of the roulette betting system.
$6.00 PDF, $12.00 print
More Information
Blood Games
clash bowley
Blood Games is a game of courage, self-sacrifice, and desperate heroism with no hope of reward. Set in the world of today, Blood Games characters fight the creatures of darkness on the fringes of the world, with courage born of faith.
PDF $10.00 Print $24.98
More Information
The Book of Jalan
clash bowley
Jalan is a world in the StarCluster where the ancestors of humanity evolved in a different direction. Magic-like PSI powers and black powder weapons are the tools of choice on this Renaissance-to-Restoration era world.
PDF $10.00 Print $22.95
More Information
Altus Adventum
Roderic Waibel
Retro-style fantasy rpg with a few key differences: no hit points, no traditional levels, and a combat system that offers tremendous flexibility while at the same time moving very quickly through mechanics; no more math during combat!
$7.00 PDF, $19.95 print
More Information
Buy It Here
No Press RPG Anthology
Published by Luke Crane
8 Original, Complete, Short-form Roleplaying Games

Born of pixels and forum posts, and tempered by the fires of playtesting, these games are presented in print for the first time as: The Nopress RPG Anthology
$20.00
More Information
Buy It Here
Pie Shop
Mr. Toad
In Pie Shop the characters are serial killers. However this game is not designed to be hip and cool, but dark and terrifying. It is an attempt to get closer to the true nature of evil. Pie Shop is a very dark and disturbing game, and is only for adults and experienced gamers.
£10.00
More Information
Buy It Here
JAGS-2
Marco Chacon
JAGS-2 is a lighter, rules-medium compatible system to JAGS. It's a high quality universal system with tons of great (free) support!
FREE
More Information
Buy It Here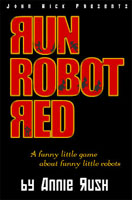 Run Robot Red
Annie Rush
All bots are equal... equally trapped under a tyrannical overlord. This is a game of robots on the run, escaping a world ship of mediocrity.
pdf: $7.00, print: $15.00
More Information