This is the highest honor of the Indie RPG Awards. It is awarded to the best overall Independently produced RPG of the year, as chosen by peers and members the gaming community. It is given to the RPG and the designer who made it. Everything which makes a game good; from game elements of story, setting, rules, innovation, and overall game design; to physical qualities like graphical design and layout, are taken into account for the awarding of this honor.
THE INDEPENDENT GAME OF THE YEAR FOR 2005 IS...
Polaris, by Ben Lehman / with 55 points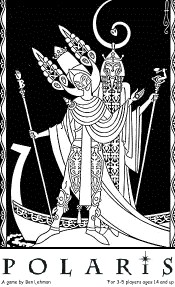 Selected Peer Feedback:
"A game that uses ritual phrases for negotiation of the narrative: a brilliant idea, all by itself. Then you get into the tragic fairy-tale aspect of the setting, and its reflection in the rules system, and you have something special. "
"Polaris codifies the language of negotiation, and makes that, itself, a game, like nothing else I've seen. Massively brilliant."
"Polaris re-invents the process of role-playing. Moreso than any other game (with or without a GM), it makes crystal clear what you can do and how to do it."
"Beautiful horror, emphasis on the beautiful, emphasis on the horror... it's really f---ing cool."
"I've never seen a game like this. It's gorgeous. It's got unapologetic soul."
"If you're into the storytelling and roleplaying aspects of RPGs as a player or GM (more than the game aspects), buy this book."
See the Runners Up in this category for more games and feedback!